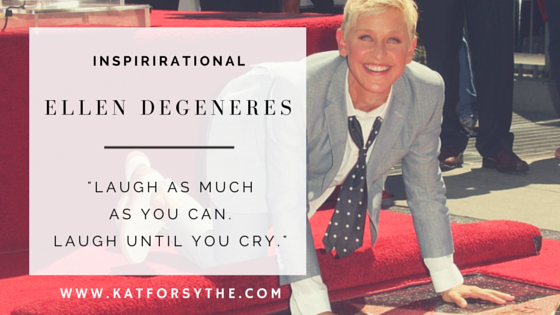 Ellen DeGeneres: Laugh as much as you can. Laugh until you cry.
Ellen DeGeneres – 56
(January 26, 1958)
"Just go up to someone on the street and say, 'You're it'.  Then run away."  – Ellen DeGeneres. If humor is the best medicine, Ellen doctors us all – including herself.  She Loves Life Now through her gift of laughter.  Her life has been no joke, however.  She's seen it all: abuse, rejection, hatred, joy, and wild success.
Our lesson from Ellen is to keep on laughing, even through the tears.
"Laugh.  Laugh as much as you can.  Laugh until you cry.  Cry until you laugh.  Keep doing it even if people are passing you on the street saying, "I can't tell if that person is laughing or crying, but either way they seem crazy, let's walk faster."  Emote.  It's okay.  It shows you are thinking and feeling." ― Ellen DeGeneres, Seriously… I'm Kidding
No, life hasn't been a giggly game of Chutes and Ladders for Ellen.  As a teen, she watched her mother struggle with breast cancer while secretly struggling against sexual abuse from her stepfather.  In 1997, she declared to the world "Yep, I'm Gay" on the cover of Time Magazine.  For that courageous coming-out, she paid a price: losing her Ellen show, the near end of her partnership with Anne Heche – and the resulting media swirl that led her into 3 years of deep depression.
Laughter literally saved her life.  In 1980, when she was 21 years old, she lost the first love of her life abruptly to an auto crash.  That incident caused her to write her first monologue: "A Phone Call to God."  She made us laugh about mortality.  It was her first stand-up job, emceeing at a New Orleans comedy club. Her performance won her the 1984 Showtime's Funniest Person in America award.
After many loves and breakups, Ellen married her beautiful girlfriend Portia de Rossi in 2008, at their L.A. home.  She says, "What can I say.  I'm the luckiest girl in the world!"
For other fun factoids about Ellen, check out this article in People Magazine.
Like the rest of us, Ellen's ridden the roller coaster of life through the ups and downs, the pain and the joy.  She teaches us to love ourselves just as we are, to laugh through it all – that life is always worth the chance to enjoy the ride.  You just have to keep going.  She's the epitome of my message to many of my clients, "What if it were just fun?"
Please comment about what Ellen means to you.  Also, if you have suggestions for other women 50+ that deserve honoring, please let us know.
https://katforsythe.com/wp-content/uploads/2015/07/19.png
315
560
KatForsythe
https://katforsythe.com/wp-content/uploads/2015/06/logo-no-photo.png
KatForsythe
2014-04-14 18:32:58
2015-07-01 00:44:45
Ellen DeGeneres: Laugh as much as you can. Laugh until you cry.