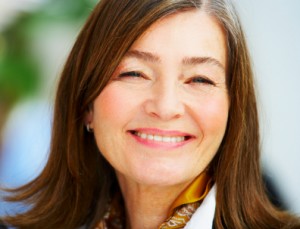 Craving compliments? Own it!
I complimented a magnificently adorned woman in her mid 60's, yesterday – at the corner of Market and 2nd in San Francisco. It was exactly what we talked about in our "I Want My Neck Back … Reclaiming Your Body" sessions. As I approached the corner, she stood there in the most beautiful royal blue and black (trimmed) light coat. She was "owning it" so aristocratically – shoulders back, head up … just waiting for the light to change to walk across Market. Perfect picture? Nope. It all worked except for the frown on her brow. At first I thought to myself, "There's an angry woman." (Remember, we lead with our face). Then I stopped myself. Wait a minute! No drama and no stories! She needs a compliment. I said, "I love that coat." She looked at me and a huge grin spread across her face. "Thank you," she said. That's all she said! (Had she secretly attended one of our sessions?) I continued, "Did you get it around here? It's lovely!" She answered with glee, "No, I made it. I make all my clothes. I learned to sew when I was three." "You sewed at three?" I asked. She replied, "We were really poor and my mother was a seamstress – no time for anything else with nine kids. By the way, you look amazing, too." I simply said, "thank you," smiling to myself as the light changed and we crossed the street. I'll never see her again, but it was a bonding moment for both of us. The kind of moment that only we women can do. In less than one minute, we both left feeling wonder-full, with a brisker stride. My resolve is even firmer, now. We need to support each other, no matter what. If you're in the San Francisco Bay Area, join us for a complimentary event (I Want My Neck Back – Reclaiming Our Bodies) as we laugh, learn and share our woes and wonder-fullness around these ever changing bodies of ours. Sags and settling? Enough is enough! Join us and learn the secrets to "anti aging."  Hint: It's not about needles or knives, salves or supplements, food or fitness …
https://katforsythe.com/wp-content/uploads/2013/10/business-lady-1-300x229.jpg
229
300
KatForsythe
https://katforsythe.com/wp-content/uploads/2015/06/logo-no-photo.png
KatForsythe
2013-10-23 15:08:11
2015-07-01 06:52:57
Craving compliments? Own it!