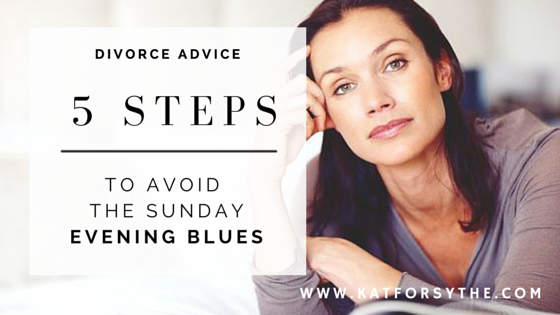 Reinvention After Divorce: 5 Steps to Avoid the Sunday Evening Blues
It's late afternoon on Sunday. The weekend hourglass is trickling down to its last bit of sand and you feel a pervasive sadness cascading over you.
As the afternoon wanes into evening, the intensity of the "Sunday blues" gets worse: job worries, angst and anxiety over undone weekend projects, and financial responsibilities.
You're not alone. Most people get gloomy on Sunday evening. Research shows that most people are saddest on Sunday and happiest on Friday. But do we need an expensive study to tell us that?!
Read more on Huffington Post
https://katforsythe.com/wp-content/uploads/2015/07/2.png
315
560
KatForsythe
https://katforsythe.com/wp-content/uploads/2015/06/logo-no-photo.png
KatForsythe
2015-01-26 14:05:38
2015-07-01 00:28:48
Reinvention After Divorce: 5 Steps to Avoid the Sunday Evening Blues