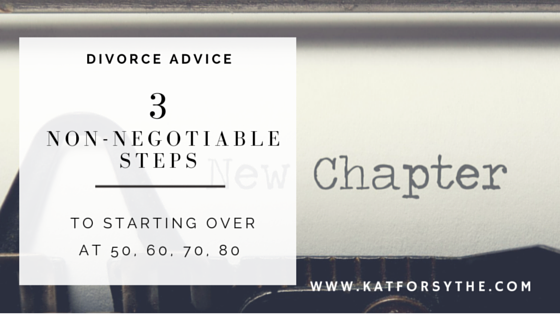 3 Non-Negotiable Steps to Starting Over at 50, 60, 70, 80
One of my favorite expressions is: Yougottawannawanna. When life throws you a curve ball, you're tempted to shout "foul" – but the truth is that the curve ball is as much a part of the game as the perfect center pitch. Your best bet is to step up to the plate, take a deep breath, and shout out loud, "Play ball! I'm in it to win it. Let's go!" You've got to want to play and win. It sure isn't easy after midlife, particularly when your self-esteem muscles are out of shape, and you're starting over once again.
Starting over? Starting again? This is nothing new.
You've spent your life learning to start over. As women, we were thrust into a world where we had to learn to maneuver. Our little girl roles weren't as well defined as our little brothers. We had to learn how to communicate our needs without being a "cry baby." We had to figure out how to interact socially and walk the line between flirting and aggressiveness. If we "developed" earlier than other girls, we were "fast" – as opposed to our brothers who were "big for their age." The result: we were on our own to figure out where we fit. As teens, we tested our roles. In our 20's we began to perfect our natural talents. New jobs, new partners, new responsibilities led us to the "arrogant 30's." Many of us felt as if we had a whole myriad of strengths – we were invincible in our 30's.
As the years went by, we were slammed with a tsunami of change. Some of us settled into a comfortable life and were able to dodge the tough stuff. Others had head-on challenges that called her inner strength to task. In any case, whatever your former situation, now is the moment to revisit the determination and focus of your childhood, the assertiveness and confidence of your 30's, and the wisdom that life has handed you – giving you more power and definition than you realize. The power within you needs to resurface.
Step One: As a little girl, you communicated in no uncertain terms. Do it again, now!
Communicate Your Needs – to yourself and to others. Another favorite phrase of mine: "If it's to be, it's up to me." No one will do it for you. Say what you need. You might get it, you might not. The point is not to get what you want, but to be heard and get that knot out of your stomach that comes from holding back. There's a whole support system that wants to help you grow, but you have to ask.
Step Two: Find new friends creatively. Here's how:
A few years ago, meeting new people was easier – jobs, hobbies, children – all provided easy inroads to new friends. Accepting the reality of your new life means understanding it's more difficult to meet new friends, now. Don't listen to the internet naysayers. While you have to be careful (lots of crazies out there), I know many women who have met the love of her life on Match.com (or any of the other sites). Check out meetup.com and type in an activity you love and your age. Dust off your computer and hunt around.However, most people still meet new friends through existing friends. Make a list of your closest friends – both men and women. Call them and ask to "hang out." Don't wait for them to call you. They love you, but you aren't top of mind with them. Call them! Don't get discouraged – people react slowly. Keep at it! If your friends know you're looking for evenings out with new friends, they'll rise to the occasion. You have to speak up, first.
Step 3: Feel the fear. So what?
I remember after my divorce, I felt like a deer in the headlights. Scared, discombobulated, and terrified to move. Of course you feel lost after a giant life change! Who wouldn't – especially when the old familiar roles from the last 25 years are evaporating before your eyes. Your next step into the unknown is darn scary.
Another favorite phrase of mine, given to me after my divorce: "If you're not scared, you're not doing it right!" You're going to feel fear. Fear is a sign that you need to take action. Think in positive terms – You're not getting older, you're getting started! What you tell yourself is critical. If you step back and look fear in the face, it can actually help you.
Let fear guide you back to yourself. Identify your fear. Tell yourself it's normal and necessary. Then ask yourself, "What can I do to distract me from this fear?" Go do that! Take a hike? Go to a movie? Cook a fabulous recipe? Listen to mind blowing music? Go ride your bike? Go to your "arsenal list" of friends to call when you need to reach out?
Always know that the fear will pass. It always does. It's up to you to change the energy with something you love, and allow the fear to pass.
By the way, if the fear becomes incapacitating, anti-depressants may help you. See a psychiatrist who understands the subtleties of the medications. If you take natural remedies, do it on recommendation of a professional who understands the herbs.
Divorce, death of a spouse, retirement or an empty house does not mean the end of your purpose in life. It's really a chance to live again, on your own terms. Use this opportunity to invest in yourself and your new adventures in life, one step at a time.
https://katforsythe.com/wp-content/uploads/2015/07/21.png
315
560
KatForsythe
https://katforsythe.com/wp-content/uploads/2015/06/logo-no-photo.png
KatForsythe
2014-04-03 16:43:26
2015-07-01 18:23:59
3 Non-Negotiable Steps to Starting Over at 50, 60, 70, 80